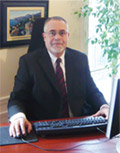 Denis Vial created AQUA MEMBRANE to provide his expertise to local authorities, consulting firms, water treatment companies, engineering schools and universities.
Denis VIAL expert membraneof AQUA MEMBRANE, is a recognized expert in the field of water treatment (drinking water, wastewater and seawater) particularly in ultrafiltration and microfiltration membranes of organic and ceramic type.

Microbiology graduate, his research and studies were the subject of numerous national and international publications

Working for 25 years within two major international groups, Denis Vial first held various positions in subsidiaries of the Suez - Lyonnaise des Eaux Group for 17 years.

In 1984, Denis VIAL joined the Lyonnaise des Eaux International Center for Water and Environment (CIRSEE) as a research engineer on membranes.

In late 1989, Denis VIAL worked with Aquasource, a newly created subsidiary specializing in water treatment by ultrafiltration. There, he designed and sold the first ultrafiltration units in France.

In 1993, Denis VIAL joined Degrémont in order to improve his knowledge in conventional water treatment and to direct other major ultrafiltration projects in France and abroad.

From 1996 to 2000, Denis Vial was Technical Director within Aquasource North America in Richmond, Virginia, USA, to assist in the creation of the company and to participate in the development of ultrafiltration. He designed and sold the first membrane units in North America

In 2001, upon returning to France, Denis VIAL worked for Pall Corporation, global leader in the field of filtration, as Marketing and Communication Director for Europe, Africa and the Middle East within the water treatment and membranes division.

Expert membrane filtration and water treatment ultrafiltration UF, microfiltation MF, nanofiltration NF, osmose inverse OI RO
Denis Vial expert membrane filtration and water treatment. He proposes studies membrane filtration , audits membrane filtration , diagnostics membrane filtration and water treatment : water, drinking, wastewater, seawater, microfiltration, utrafiltration, organic, ceramic
Its founder, an engineer by experience, is an expert with recognized expertise in the ultrafiltration or microfiltration membranes of all brands, of organic, inorganic, ceramic or mineral type, of capillary, hollow fiber, tubular or multi-multichannel flat or spiral configuration, operating in a pressurized mode or under pressure, or immersed or submerged, or under vacuum. Technically he apprehends phenomena related to membrane technology, the development of membranes and problems, advantages and disadvantages of membrane technology, audit of units, autopsy of membranes and modules, management of blockage or clogging, backwash or backwashing, cleaning or clean in place or CIP including CEB or chemically enhanced backwash. Its mission is to advise and assist communities, consulting engineers, water treatment companies seeking assistance to project management. Ethics and independence do not allow to sell membranes or the sale of membranes systems for all applications including water systems for general use and drinking water as softeners, non-collective sanitation, pools, aquariums, hot springs and baths.